03 March 2021
UK software and IT M&A update 2021
After the expected 2020 dip in UK technology M&A activity (down 19% on 2019) deal-making returned with a bang in Q4, with more than 200 transactions completed across subsectors from cybersecurity to data management, and SaaS to cloud services.
Here, we share insights on who's buying who, our pick of the segments being reshaped by acquisitions, and what the year ahead looks like for tech business owners thinking of whether to exit now or later.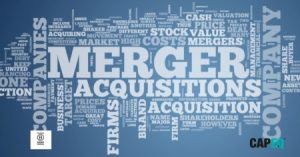 Video conferencing
Since the arrival of the Covid pandemic, the virtual meeting is undoubtedly the most tangible change in how the world gets business done. Zoom turned into a household name overnight, while London start-up Hop-in ended the year with a $2bn valuation and unicorn status.
Set up in June 2019, Hop-in's online conference platform became an instant hit with customers and investors alike, securing £125m of venture capital backing, and acquiring live streaming studio Streamyard earlier this month in a deal worth £200m.
Cloud services
Accenture completed 28 acquisitions in 2020 as far afield as Mexico, Argentina, California, and the UK – where it bought Salesforce cloud consultancy Businet Systems.
As digital transformation accelerated across the economy, those companies with strong credentials and healthy pipelines were snapped up by larger competitors. For example, private-equity backed Timico acquired public sector digital consultancy Arcus – just one of the dozens of examples of investors consolidating leading positions in target markets.
Healthtech
While big pharma grabbed the headlines over vaccine development, healthtech solutions are emerging as a top target for investors and acquirers. Civica acquired clinical PaaS provider Chameleon Information Management systems, while new acquirers have also emerged, such as healthtech acquisition vehicle Healthhero, which acquired triage app Doctorlink.
Edtech
Home schooling and online lessons have brought school communications into sharp focus. Enterprise software group IRIS has been leading the way in acquiring school platforms – including ISAMS in 2020. But competition has intensified with Capita's decision to sell its education software division to Montagu Private Equity, which is offering strong competition to IRIS after acquiring UK market leader Parentpay.
Ecommerce
Online shopping in the UK has grown from 20% to 36% of total retail sales since the pandemic but has also caused growing pains for eCommerce sites coping with a surge in mobile purchases. As a result, several UK e-commerce operations have acquired start-ups to solve any emerging problems with back-end capabilities.
Amazon resellers have traditionally been harder to sell than e-commerce firms with proprietary IP, but this lucrative segment has recently attracted attention from new US fund Thrasio, which has a £200m war chest to acquire Fulfillment by Amazon (FBA) sellers in the UK.
At the top end of the market, the last year also saw online fashion brands Asos and Boohoo rescuing ailing traditional retailers Arcadia and Debenhams – albeit with the intention to move the two high street stalwarts entirely online.
Non-tech buyers
Finally, the continuing trend of non-tech buyers acquiring tech firms is worth noting. Pet retailer Pets At Home acquired vet telehealth business The Vet Connection for £15m (EBITDA multiple of 20x), defence contractor BAE Systems acquired Bristol data consultancy Techmodal, while foodservice group Compass snapped up cloud canteen start-up Feedr for $24m.
A good M&A advisor will explore these prospects alongside the more obvious buyers, as in most cases the tech targets are already known to these acquirers.
What all this means for your tech business
Covid has accelerated digital dependency across large swathes of the economy, which in turn has attracted investor and acquirer attention to building leading positions in a wider range of the tech sector, from digital transformation consultancies and data analytics to industry-specific SaaS and cloud CRM resellers.
The broad range of buyers and new entrants are shaking up already competitive sectors. While this is all good for the tech business owner – who is likely to attract a better choice of buyer and flexibility on terms, this is not a permanent state of play. What if the serial acquirer in your sector gets bought? What if that obvious tie-up runs into market competition concerns (as Uber has with its Autocab acquisition)? Business owners in the tech world still have to go beyond immediate competitors to secure the best deal.
If you are thinking of exiting your tech business in 2021, it pays to look beyond the usual suspects. Message us at Capeq for a free assessment of your options before you take the plunge.