Is your business too small to sell?
"My business isn't worth enough to meet my financial needs – when it is I'll think about leaving."
This is a common and relatively reasonable assumption: why spend time, effort and money to plan to leave your business when you cannot do so today? Why not wait until it is at least theoretically possible to leave before beginning the exit planning process? Consider the following example: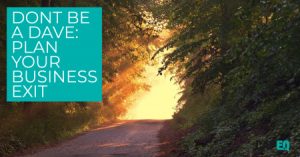 At age 45, Dave Smith dreamed of the day he could leave his company. The past five years that Dave has spent time trimming the fat, watching every penny and developing new marketing strategies on a shoestring budget had taken their toll. Nevertheless, Dave kept his nose to the grindstone, fully confident that the exit he dreamed of would take care of itself.
Fast forward five more years: Dave has remained stagnant, dreaming more frequently but doing nothing to bring about the day he could walk out the door. What changed? Dave had reached his 50th birthday — a benchmark he had set years earlier as the day he'd leave the business behind.
During the five years Dave spent working in the company, he missed the opportunity to do the following:
Clearly establish his personal exit objectives and goals.
Create an exit plan (based on his goals) that would identify the most productive actions he could take to create and protect value, and to do so in the most tax-efficient way possible.
Drive up business value to the point where he could sell, pay taxes and exit with the amount of cash necessary to achieve financial security.
What owners know to be true, but often fail to act on, is that growing the company usually does not occur unless owners focus their efforts on deliberate actions that move their companies measurably toward their goals. In failing to act on what they know, owners don't create or implement exit plans and thus are never able to exit on their terms.
We know the goals you need to achieve in order to win financial freedom and we can help you identify and execute the steps to get you there.
Leaving your business isn't an ending, it's a beginning
Please contact us to discuss further