Choosing a professional advisor to help you sell your business isn't as easy as it first looks. Accreditations, awards, sector experience, or fees don't really indicate whether you will get the sale of your business over the line. So what does matter? Here's what to look for when meeting contenders
Hiring any advisor is a tricky decision for business leaders.
Service levels aren't always clear, outcomes can be vague, and there's always that nagging feeling that you may be paying someone to tell you things you already know.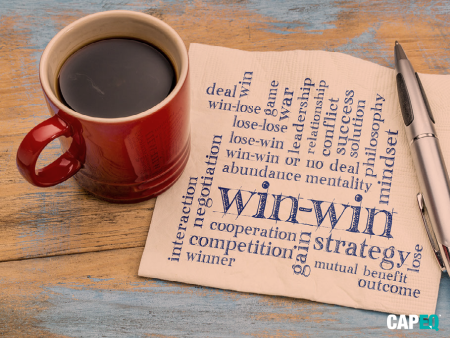 The M&A profession is no different. There are thousands of firms to choose from – business brokers, high street accountants, regional boutiques, professional services brands, or investment banks.
Few entrepreneurs have previous experience of going through a business sale, so the questions you ask when choosing an M&A advisor are critical.
Remember, you've decided you want to sell your business.
The goal is to actually COMPLETE on a sale – preferably for maximum value.
What skills should my business sale advisor demonstrate?
Accreditations, awards, previous sector experience, or fees don't really indicate whether you will get a deal over the line.
Skills matter more. To optimise your chances of successfully doing a deal that works for everyone, sellers and acquirers tell us they value these skillsets most.
ARTICULATION – a slick company prospectus presenting key facts and company USPs is more likely to get read than a tedious 90-page dossier
ORIGINALITY – a large list of well-matched acquirers is more likely to generate interest from multiple parties, creating auction conditions so sellers can choose the best fit, terms and price
TENACITY – acquirers are busy and may miss the opportunity. Contact info may be out of date, they may be in the thick of doing a complex acquisition. Good advisors keep going until we can speak to someone and get them to the table
ORGANISATION – busy people means meetings often need re-arranging, follow-up info needs sending, third parties need coordinating (eg lenders, tax specialists, regulators)
MOMENTUM – interest dwindles with late follow-up, missing info, or sloppy scheduling. No owner wants to be in a situation where they are about to agree a deal only for a new bidder to pop up too late in the process. Energy and drive are important soft skills to keep timescales aligned
DEFENSIBILITY – key financials and forecasts will be interrogated, so owners need to be confident they are accurate and achievable. Acquirers have their boards to satisfy, while owners will want to reduce price-chipping in the final negotiations
LEVERAGE – faced with much larger acquirers, owner-directors need advisors to put their business on an equal footing. Competing bidders helps here, but honest advice on when to push and when to concede also matters
EMPATHY – M&A is stressful, so both sides need calm heads who can overcome tense moments to get a deal over the line for mutual benefit. After all, consensus and compromise is the key to negotiating.
Good business sale advisors will be able to demonstrate most or all of these skills. But how do you test for these qualities?
Customer testimonials provide some pointers to the skills mentioned above. Ask for plenty, and sift through them looking for the attributes listed above.
"James has an ability to remain calm under pressure, stay focused when the going gets tough and be strong enough to stick to his guns to get the results for his clients. He is good fun to work with and I would not want to have gone through a business sale with anyone else. At all times it felt like we were in control and he could calm a tense situation putting his clients needs first. James has transferable skills and his ability to quickly understand a business and in depth accounts was a huge advantage." – Jon Neill, Sportsafe
This example demonstrates organisation, momentum, empathy and tenacity. Every business sale advisor you speak to will have reams of testimonials, but be skeptical of overly bland platitudes. It may be a sign that the advisor is purely process-driven or that the relationship wasn't particularly strong.
Questions to ask when choosing an M&A advisor
Who will lead my project?
What control do I have over the business sale process?
How will they update me on progress and hurdles?
How will they fight my corner?
Are we going to get on?
Do they really care about me and my business?