Dutch martech group Spotler has acquired UK CRM specialist Really Simple Systems in a transaction originated by CapEQ.
Founded in 2004, Hampshire-based Really Simple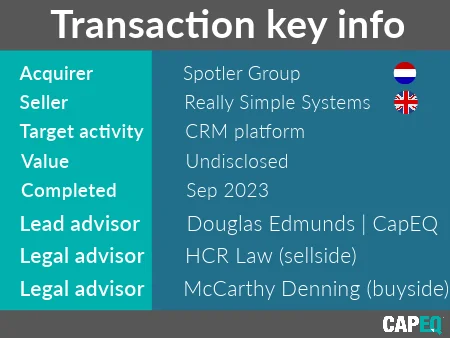 Systems' easy-to-use cloud-based CRM is primarily used by marketing teams in the UK, Europe, Australia and USA, with customers including the British Museum, Royal Academy of Arts, and British Red Cross among others.
The acquisition follows Spotler Group's €30 million capital raise led by CNBB Equity Partners, with Really Simple Systems the fifth brand to join the Rotterdam-headquartered group.
Helen Armour, General Manager of Really Simple Systems said: "I'm delighted that our team and our customers are joining the Spotler Group.

"We share the same values in supporting ambitious marketing teams, and by bringing our technologies together, we will significantly strengthen the value to our customers".
The extensive Spotler marketing suite already includes automated omnichannel marketing, web and email personalization, social media management, visitor intelligence, brand monitoring and intelligent chatbots. And while this does not indicate an end to the acquisitions by the group, adding Customer Relationship Management (CRM) to the Spotler martech stack is seen as a key piece of the puzzle.
"The vision that drives our technology development, R&D and acquisition strategy has always been to build a data-driven, AI-powered marketing automation platform," said Aaron Yates, CTO, Spotler Group, "and this is another step in realising this goal as marketing technologists recognize that implementing a CRM is key to their effectiveness."
With the strategic acquisition of Really Simple Systems, Spotler continues to invest in a strong B2B offering to the market founded on marketing data and actionable audience insight.
"I believe that marketing science is in the data, not just in the message," said Lee Chadwick, CEO, Spotler Group "and I'm excited by what the team at Really Simple Systems and their technology will bring to the group in delivering on that, what this will mean for our customers and the strength of our combined offering in the market."
The addition of CRM functionality to the Spotler marketing suite creates a complete set of marketing technology, or a one-stop shop for ambitious marketing teams, specifically in the mid-market, who enterprise vendors poorly serve in terms of modularity and cost.
The shareholders of Really Simple Systems were advised by CapEQ (corporate finance) and HCR Law (legal). Spotler was advised by McCarthy Denning (law). The price and terms are undisclosed.
CapEQ Partner Doug Edmunds commented: "It's been a pleasure working with Really Simple Systems founder John Paterson and the team at Spotler. It's a great business combination which will benefit customers, staff and partners, and we wish everyone the best for the future."
About Really Simple Systems
Designed for growing teams wanting a simple, easy-to-use online CRM for sales, support and marketing, Really Simple Systems' cloud-based CRM is great for companies with multiple locations and a remote workforce. With over 900 customers, across the UK, Europe, Australia and the US, including the Royal Academy of Arts, The National Trust for Scotland, the British Museum, local government agencies, and a myriad of small and medium-sized businesses. Really Simple Systems is a leading vendor in the CRM category.
About Spotler 
Founded in 2016, the Spotler Group has invested in building and developing a portfolio of leading digital marketing and communications technologies that simplify the complexity of multi-channel marketing, sales and customer service. Brands include Spotler, Squeezely, Flowmailer, and OBI4wan. Together they serve over 4000 customers across 15 countries, transmitting over 18 billion messages every year, making the Spotler Group a European leader in this expanding marketing technology category.